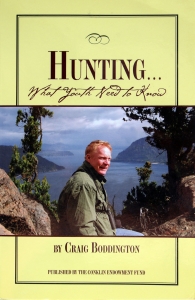 In 2013 our Board of Directors contracted Craig Boddington, a famous and well known outdoor writer and outdoor television activist, and Charles KIrk, at that time a 19 year old famous national television guest speaker, to each write a book. These books, each approximately 100 pages, hard cover, were designed for the youth movement across America for young people to know, identify, and support hunting and the Second Amendment, plus have information to support such positions.
Craig Boddington's book was factual and detailed but written in a way young people could remember. Adults also, especially teachers, found the book very informative. Charles Kirk's book was written by a teenager for teenagers and dispelled myths many young people might have picked up. Both books were "timeless," to the point then and still to the point today. The Conklin Foundation printed and gave out free to young people across America close to 100,000 of those books.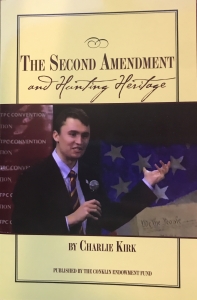 These were two of the very, very few books ever written specifically for young people to give them information and facts to support hunting and take the offense with true knowledge against non-hunters. They were extremely well received and are still available today.
In the summers of 2017 the Board of Directors commissioned Charles KIrk to write a second book. Charles still remains very active with young people as his youth movement now consists of 75,000 active student participants from high schools and universities in all 50 states. His appearances on national television have mushroomed as he continues to provide audiences consensus youth values. This new book will be finished and available before year end 2017.
The Conklin Endowment Fund and the Conklin Foundation are leading the way to make a difference to help young people with facts and information about our hunting heritage and the ability to hunt in the future. Other than operating costs, no Conklin Endowment or general funds are spent on salaries, wages, trips, or other "benefit" type rewards. The investments of the Conklin Endowment Fund and the Conklin Foundation for the last several years, and for a time to come, have centered on books for youths, paying for printing, shipping, and giving these books to youths across America free of charge.